Vacuum clamp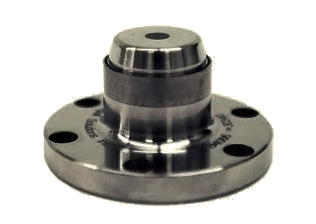 Everything a vacuum clamp should be: Durable, simple, very efficient vacuum path (no right angled flow paths), Durable Carbide seat, Widest Vacuum face available for maximum grip and versatile packaging with a wide choice of materials and flange and centering cap configurations. Ultra Clean and simple for years of reliable performance.
Design flexibility is often a clamp's most important feature. Options include choice of:
"Z" height, base material, mounting interface, disk seat size as well as vacuum seating area, special clearance features such as support shank undercut and/or special contour cap. We have developed hundreds of vacuum clamps over the years, each one optimised for a unique application.